Elmard Engineering Co. Pvt. Ltd.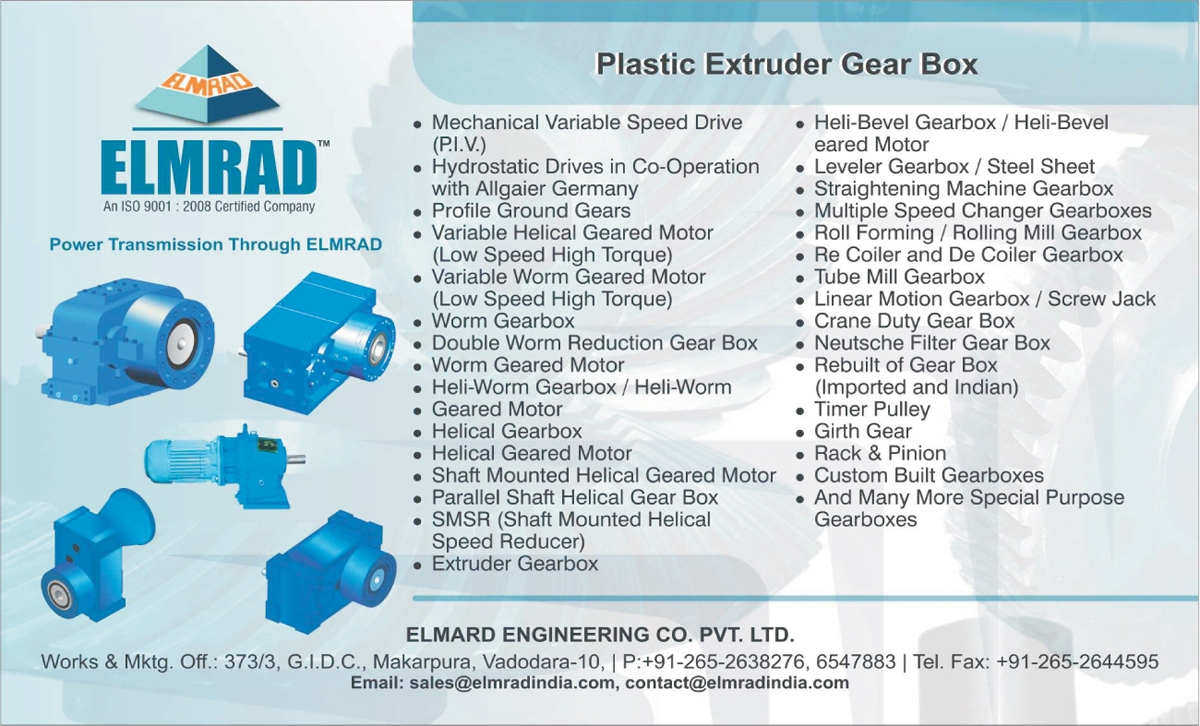 Elmard Engineering Co. Pvt. Ltd.
Deals In-
Plastic Extruder Gear boxes, Mechanical Variable Speed Drives, Hydrostatic Drives, Profile Ground Gears, Variable Helical Geared Motors, Variable Wormed Gear Motors, Worm Gear boxes, Double Worm Reduction Gear Boxes, Worm Geared Motors, Heli Worm Gear boxes, Geared Motors, Helical Gear boxes, Helical Geared Motors, Shaft Mounted Helical Geared Motors, Parallel Shaft Helical Gear Boxes, Shaft Mounted Helical Speed Reducer, Extruder Gear boxes, Heli Bevel Gear boxes, Heli Bevel Eared Motors, Leveler Gear boxes, Leveler Steel Sheets, Straightening Machine Gear boxes, Multiple Speed Changer Gear boxes, Roll Forming Gear boxes, Rolling Mill Gear boxes, Re Coiler Gear boxes, De Coiler Gear boxes, Tube Mill Gear boxes, Crane Duty Gear boxes, Linear Motion Gear boxes, Linear Motion Screw Jacks, Neutsche Filter Gear boxes, Rebuilt of Gear boxes, Timer Pulleys, Girth Gears, Pinions, Customized Built Gear boxes, Special Purpose Gear boxes,Gearboxes, Worm Gearboxes, Helical Gearboxes, Rolling Mill Gearboxes as an active Manufacturer, Supplier, Dealer, Distributor, Trader and Seller etc. (*Importer/Exporter/Service Provider).
Address- Head Office: 373/3, G.I.D.C. Makarpura Vadodara Gujarat